Why Boulder Blimp...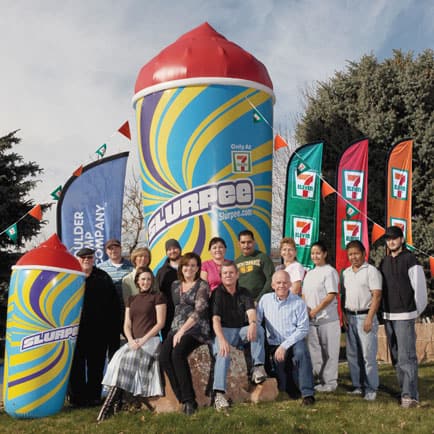 QUALITY, CUSTOMER SERVICE and REPUTATION are just a few of the reasons that our clients give when asked why they chose Boulder Blimp Company.  Boulder Blimp Company leads the industry in design and innovation in the promotional inflatable market. Since 1980, we have created quality products that maximize Fortune 500 marketing programs and introduce new clients to the expansive possibilities of inflatable advertising.
Boulder Blimp Company inflatables are an effective means of garnering brand awareness, creating lasting impressions and maximizing your advertising dollar.  Like no other form of advertising, inflatables reach out to the audience and provide and exciting, entertaining, and memorable perspective of your product or business.
Our excellent customer service and quality is what makes Boulder Blimp Company stand out above the crowd! Boulder Blimp Company is the top U.S. Manufacturer of cold air inflatables, inflatable tents, inflatable pavilions, inflatable costumes and so much more. Giant Inflatables are used extensively in event marketing, product launches, grand opening and other special sales and promotions. Our colorful balloons provide friendly, yet dynamic, name awareness.
We have been helping Fortune 500 companies maximize their advertising dollar. Call today to speak with an account executive for a free quote. Boulder Blimp Company is where big ideas take shape!
History
In 1980, Boulder Blimp Company was started with an inventive brainstorm; take an old hot air balloon and transform it into an advertising inflatable that would steal the show wherever it was seen. The first one was built in a garage and this ambitious idea forged the groundwork that became Boulder Blimp Company.
Located at the Front Range of the Rocky Mountains in Colorado, Boulder Blimp Company leads the industry with high quality products, innovative technology and excellent customer service. Boulder Blimp Company, with an established foothold in the market, is instrumental in developing, challenging and expanding the inflatables industry.
Boulder Blimp Company's reputation attracts customers from all over the world. Our consistent service and superior inflatables generate repeat business with companies like Coca-Cola, JDRF, Girls on the Run, Toyota, Pernod-Ricard, Quiznos, Tropical Smoothie Cafe, Panda Express, Fleet Feet, Tropicana and General Motors. Our inflatables are featured in dozens of magazines, newspapers and trade journals. You've seen them on TV and live at hundreds of national events including the Sugar Bowl, Indy 500, X Games, New York Stock Exchange, Independence Bowl, and a variety of ski events and movies.