Best of Boulder Blimp Inflatables 2018!

It's the end of the road for 2018 already. Can you believe it?! December is the perfect month to reflect on the year and take stock of our progress and successes. We are incredibly lucky to have been able to collaborate with such imaginative clients and create some of the best inflatables in our history this year. We'd also like to thank our stellar production team for executing these projects with such phenomenal craftsmanship. Good work team! Now, I'd like to share a quick rundown of my personal favorites with you if you have some time to spare.
1) Fun fact about me: I was born and raised in northern NJ just outside of NYC. Although I now call Colorado home, I will never be able to shake my undying love and admiration of a real New York style slice of pizza! So, it's no surprise that this Mod Pizza inflatable pizza slice is my number one choice for this year's Best of the Best. That realistic inflatable replica of a pepperoni slice is calling my name! Too bad I've developed a gluten intolerance since moving out here but, that's another story. Believe me, I curse my luck every day. Cue the world's smallest violin.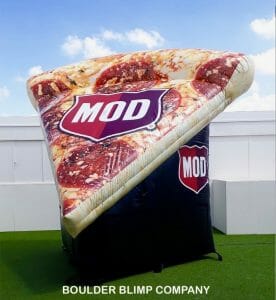 2) Coming in second place are these fluffy and ethereal illuminated inflatable clouds and custom color inflatable hot air balloon shapes. So dreamy, no? They were a nice touch that lightened the mood, literally and figuratively, at the Children's Tumor Foundation beNeFit VI Gala in Detroit last month. The beNeFit has raised over $25 million to end neurofibromatosis in the past six years alone!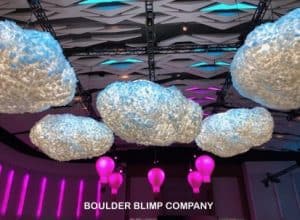 3) Last but not least is a contender that needs no introduction since he's always been kind of a big deal: the inflatable Lego Man minifigure! I was so excited to see this order for the Orem, UT location of Bricks & Minifigs come through!  I can't help but take a stroll down memory lane and think about all the Lego structures I used to build with my cousin when we were growing up. The best part was hearing our parents yell at the top of their lungs when they'd inadvertently step on them. We'd immediately blame the other and once the coast was clear we'd laugh like little maniacs. We were rotten but once the roles reversed I understood the pain only a Lego can inflict on bare feet. Holler if you hear me!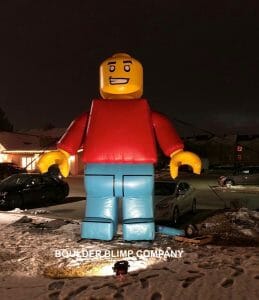 I hope you enjoy these giant inflatables as much as I do. Remember: all you need is a little creativity and time and we can work together to make your BIG ideas take shape. Contact us today for your FREE quote and friendly service!