Breath of Fresh Air – Girls on the Run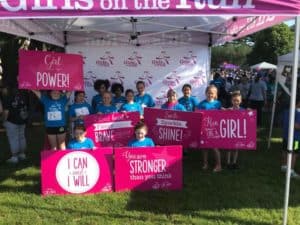 "Who runs the world? GIRLS!" – Beyonce
I've said it before and I'll say it again and again and again, I am ecstatic to call Girls on the Run a client. You may be asking yourself, "Ooo, what's that?" Well, sit back, relax and read on my friend!
One fine day in Charlotte, NC, circa 1996, Molly Barker decided it was time to realize her vision of creating a world where every girl knows and activates her limitless potential and is free to boldly pursue her dreams. That day she embarked on her mission with a group of thirteen girls. To her elation and surprise, that number doubled the following year, then tripled and continued to multiply rapidly until the need for a non profit was perfectly clear. In 2000, Girls on the Run International was born. In order to accomplish their mission, certified coaches meet with girls from the 2nd through 8th grades twice a week in small teams where they learn life skills through dynamic, interactive lessons and running games. The focus of the meetings revolves around three integral themes for the girls to grasp: understanding themselves, valuing relationships and teamwork and understanding how they connect with and shape the world at large. Running serves as a muse to motivate, encourage a healthy lifestyle and build confidence through accomplishment. At the end of the season, girls participate in a 5K that celebrates their hard work and femininity while also instilling the invaluable lesson that anything is possible as long as you are willing to sweat a little bit. Did I mention Girls on the Run also host an immersive week long camp?!
I'm telling you, this organization is doing BIG things for our LITTLE people. So much so, they decided to test their impact! Dr. Maureen Weiss, a youth development expert, conducted an independent study to evaluate the effectiveness of Girls on the Run in promoting positive outcomes. She compared Girls on the Run participants in the same grade who had never participated in the program before. What she found was:
85% of girls improved in confidence, competence, caring, character or connections.
Girls who were least active at the start increased in physical activity by more than 40%.
97% of participants leaned critical life skills – manage emotions, help others, resolve conflicts, intentional decision making.
Pretty cool, huh? I won't get too political on this platform but, as you may know, the importance of women empowerment is critical now more than ever – a time when women and girls the world over are facing an increasing onslaught of negativity and harm from varied origins and entities. With that said, it is such a relief to know an organization such as Girls on the Run exists but they can't continue their service alone. That's why they teamed up with Boulder Blimp and created their custom made inflatable arch and promotional event marketing products, like that pop up tent, so they can make their presence know wherever they are. I urge you to RUN, not walk to their home on the web @ https://www.girlsontherun.org/. See what I did there? Anywho, you'll find all sorts of information from program registration and volunteer opportunities to exciting sponsored events/merchandise [BTW: They have a ton of cool sponsors!].
That's a wrap, folks! Stay tuned for the next installment of Breath of Fresh Air coming up next month. I wonder who the spotlight will turn to next! Will it be YOU?