Custom Inflatables for Fall Races & Events!
Elevate this year's Turkey Trot with an inflatable arch by Boulder Blimp Company. Annual Turkey Trots are some of the biggest races of the year. Whether it is a 5K, 10K, Half or Full Marathon, Boulder Blimp Company helps create a custom experience come Race Day.
We worked with a race event company to create the inflatable arch below for Phoenix's Annual Turkey Trot. This custom arch ensured participants had a BIG start for one of the Nation's Largest Annual Turkey Trots.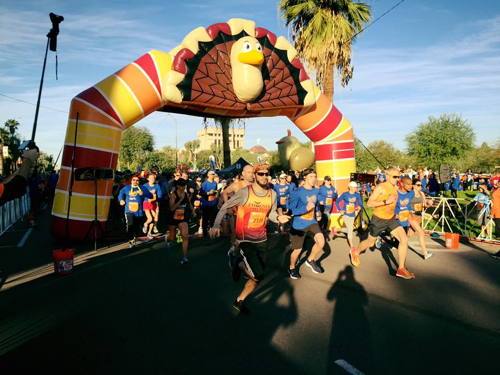 Race companies have switched to inflatable arches over metal trusses systems because they:
Are significantly lighter than metal systems
Take 15-20 minutes to set up/ tear down (compared to hours)
Less of a liability
More cost effective
Can be fully customized or more generic to use across multiple events
Boulder Blimp Company is a one stop shop for race companies/events. In addition to arches, BBC creates Pop Up Tents, bow banners, mile markers, barricade covers, table covers – you name it! Custom inflatables can be used to showcase the style of race or even the primary sponsors! Give us a call today or email info@boulderblimp.com to discuss your race day needs with a specialist.