Pop Up Tents
Custom Pop Up Tents are a great way to bring extra attention to your brand. Our event tents are easy to assemble and incredibly reliable. Our powder-coated rust-resistant steel frames provide a durable base, the tent tops are water and flame retardant, and the material is made from a UV-protected 600 denier polyester fabric. We are able to produce various different sizes, just let us know what you need. We can easily add back walls and side walls for an enhanced visual experience. You can completely customize the size of the tent and amount of graphics included to fit any budget.
Custom Table Covers
Custom table covers are a great way to add more branding and excitement to your next event. Our table covers are 100% polyester poplin and have 4 customizable sides, stretching to fit any table. Fitted table covers are also available.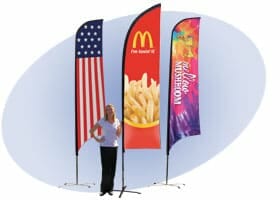 Bow Banner & Banner Systems
In addition to cold air advertising inflatables, Boulder Blimp Company is also a banner expert.  We have a wide variety of banner systems designed to fit your specific event needs and any budget.  Call us to find out more about custom made bow banners, teardrop banners, curved banners, event banners, retractable banners, pop up walls and much more!
Our bow banners have the highest quality at the BEST value!  Use them on a Rooftop, Sidewalk, or Indoors!
Affordable solution to maximize exposure!