Make Your Mascot an Inflatable!
Looking for a way to bring life to your companies mascot? Make it an inflatable. Mascots work great for creating a powerful brand. Think Energizer bunny, the AFLAC duck, Geico's gecko/caveman, Mr. Clean -etc.
The mascots referenced gained exposure because of print media or commercial advertising. At an event, experiential or interactive channels are more successful. An inflatable mascot allows your target market to take pictures, interact with and see your brand at anywhere from 10′-30′ Tall. People are impressed and will share these interactions on their social media accounts, allowing you to gain exposure to people who weren't even attending that event.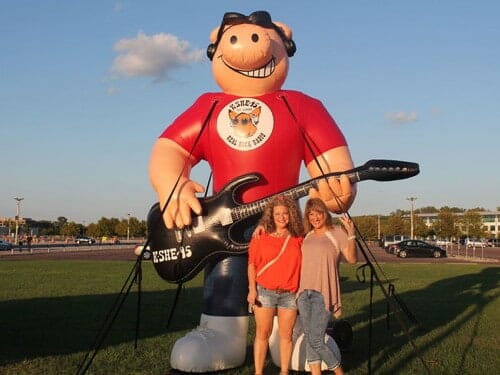 Being able to print on the inflatables or create banners is great because you can print a social handle or hashtag. After your event you can see metrics and track the success of your campaign.
We recently created two, 10′ Tall Inflatable Suns for Funfest- Kingsport. The client refers to them as the "twins" and couldn't be happier. Previously they had a costume an employee would wear and with the extreme July heat, they decided that standing mascots would be a better fit.
"We absolutely love the "twins"!  I've attached a couple of pictures of where we had him set up for Fun Fest this year just so you can see what we've done. They made appearances of our Fun Fest events, and the community loved it.  We will definitely continue to use them at events and at the Kingsport Chamber and find some more creative things to do with them."