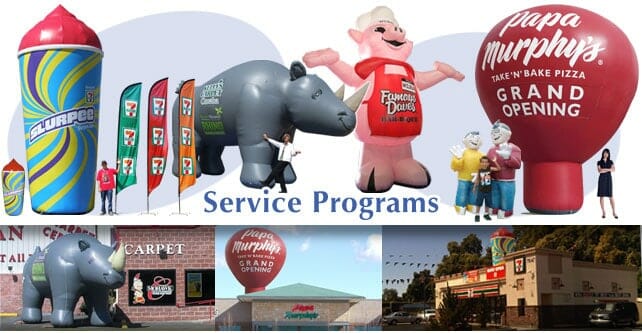 "I have never dealt with a vendor that is so stellar. I recommend to everyone that needs inflatables –
Boulder Blimp Company. Your products and customer service are impeccable." – Images USA
Let Boulder Blimp Company
do the work for you!
With our Service Program you reap maximum benefits from your inflatable program. We ensure that your inflatables are set up and taken down properly while you focus on the details of your event or promotion. Our full time Service Program Manager coordinates successful and worry-free events.
We store, ship, set up, take down and maintain your inflatables, and manage all the details. We handle service programs for many Fortune 500 clients including: 7-Eleven, CMT, Kyocera, Nokia, Famous Dave's,  Qdoba, Krispy Kreme, Taco John, Papa Murphy's and more. Call us today to customize a program that works best for you.
Service Program Features:
Set up/Take Down
Scheduling and ShipmentTracking
Storage
Cleaning and Repairs
Benefits:
Worry-free inflatable program implementation, increased inflatable longevity, best inflatable representation, online access to inflatable program status, extensive reporting features available to help you track your program, and experts available to answer questions about your program at any time.