The Original Inflatable Fire Safety Education House
The Original Inflatable Fire Safety Education House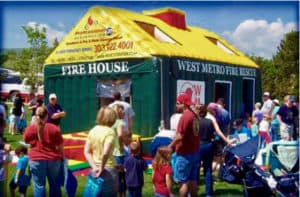 HUGE PRICE REDUCTION * HUGE PRICE REDUCTION * HUGE PRICE REDUCTION

Due to popular demand, we are able to lower our price on the inflatable The Original Inflatable Fire Safety Education House from $7,995 to $6,995 USD! Quick turnaround times available!
This fire safety education tool has been proven to be popular in the USA and in Canada. The inflatable fire education house is the PERFECT alternative to the traditional fire safety trailer in regard to affordability, convenience and simplicity.
The inflatable fire house is comprised of 3 rooms: a kitchen, a living space, and an exit area covering topics such as kitchen safety, fireplace & candle safety, and exit drills in the home (E.D.I.T.H). This fire education prop can be set up both indoors and outdoors. Think gymnasiums and hospitals or field days and fairs. Fire chiefs can buy a house and then share with local organizations or they can get local groups to sponsor the house and put sponsor banners on it so you get more bang for your buck. But wait…there's more!
Because customization is our middle name, we can easily tailor an inflatable fire safety house that identifies with your department and community. Need specific colors? No problem! We have plenty to choose from. Need to add some sponsorship opportunities? We've got you covered with 5 banner placements options! There are 2 large squares that can accommodate department shields and 3 long banners for customized script/text. Speaking of banners, there are 4 internal banners equipped with up-to-date messaging to cover candle safety, the importance of smoke alarms, having proper exit drills in the home and kitchen safety also. It's a given that safety protocol changes over time. Boulder Blimp understands the importance of remaining current in terms of messaging and terminology so we team up with Life Safety Specialists out of Virginia to update our products.
So the moral of the story is this: if you are looking to provide a high quality fire safety education to your community's youth then you must choose a high quality company. That is exactly what Boulder Blimp Company is – high quality.
Call today  at 303-664-1122 or email BBCinfo@BoulderBlimp.com to get your free sketch with your logos! Click here to be directed to our dedicated fire industry page!